By Louise Pool
The powers that be here in the Seychelles do a lot of talking about eco tourism, sustainability and the environment and yet I don't hear a lot about building in a more sustainable manner. And there's a lot of building going on. One ugly building after another is popping up all over the islands. I sometimes wonder if we have no architects here (and if we do, they must be either extremely frustrated or out of work). It looks like a couple of construction companies have one set of plans they apply to every new building. They're all built from concrete with little air flow and Roman columns on the verandahs with air conditioning units sticking out on all sides like oversized Tic Tac containers. And then touted as executive apartments or houses. Strangely, we seem to have a lot of executives in the Seychelles...
Some effort towards sustainability has been made with the new houses on Perserverance to install solar panels for electricity and someone has started a business importing solar units. Another is building prefab wooden "eco" houses (sadly without any concession towards aesthetics). Whilst I applaud these efforts, it is not enough.
There are many low cost ways of building environmentally friendly houses which may be more suitable for those of us non-executives. Here are three of my favourite ideas for eco building in the tropics:
1. Earth bag houses
Cheap, quick and easy, earth bag houses are made from soil dug out from the construction site itself which is then filled into gunny bags. A professor at Caltech came up with the idea some years ago and these houses have proven to be earthquake and flood resistant. It's essentially the sandbag idea used for emergency construction taken to a more sophisticated level. Conventional square or rectangular houses can be built with this method, but I like the more organic constructions. Oh, and it takes about three weeks to build one with a couple of friends helping.
2. Cob houses


All over the world, houses have been build out of mud. In Europe, they are called cob houses and are built out of clay, sand and straw. We don't have straw here, but I'm figuring coconut husks might do the job as well. We have sand (unless it all gets dredged up at Beavallon) and red earth which is sticky. These houses are extremely strong and can withstand fire and heavy weather as well.
3. Earthships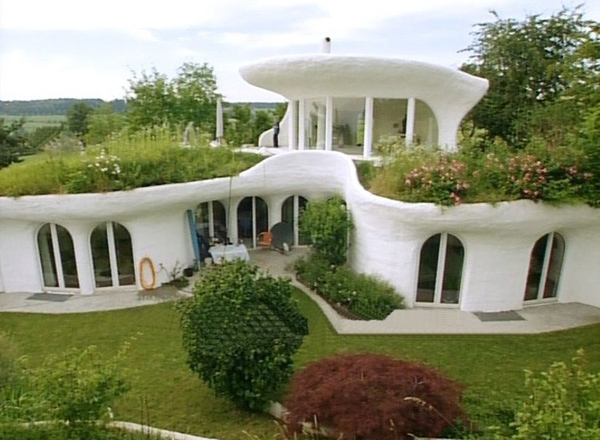 Earthships are built into the earth, utilising the thermal effect of the earth to either heat or, in our case here in the tropics, to keep cool. Earth-sheltered homes can be built entirely underground, bermed (covered with earth on one to three sides) or built into a larger hill with just one side open. This is especially useful for all those sloping plots of land in the mountains. No blasting of granite required either; just use that huge piece as part of the wall. Exterior walls can be built out of old tires, bottles and cans which are tightly packed with earth (again from the site itself).
All these houses can be fitted with solar panels, water catchment systems and self composting toilets (and I don't mean a smelly hole in the ground) to be truly eco friendly.
Some ideas that I don't feel translate to well to the tropics are shipping containers (all that metal is too hot), pallets (think of the insects) and beer bottles. Whilst we have enough of the latter (and it might not take too long to collect enough to build a house with), all that glass is a little heating. Strawbale, whilst popular amongs builders seeking to live a lighter footprint on the environment would work, but we don't have enough straw to feed those straggly cows, let alone to build homes.
I'm a starving artist, so I don't even own a piece of land to build on. If I did, I'd go for an earthbag home. Aside from the ease of building, I love the aesthetics of some of these houses. If there's a generous soul out there willing to lease me a plot of land, I'd be happy to demonstrate...
P.S. A lot more information on natural building can be found at
Natural Building Blog
and
Dream Green Homes
.